"I wouldn't have minded a rather more detailed conclusion (to Pride and Prejudice) — say, a twenty-page sex scene featuring the two principals, with Mr. Darcy, furthermore, acquitting himself uncommonly well."         ~ Martin Amis, The Atlantic
A TASTE OF
PULSE AND PREJUDICE
Darcy leaned in with his hands on either side of the doorframe and let his forehead fall against the door. He closed his eyes and imagined her lying on the bed, her hair splayed out on the pillow, the eyes that had challenged him so brightly just that evening now closed in repose. What little effort, how few steps it would take, for him to be upon her, taking what he needed, sating his thirst.
He pushed himself away from the door and leaned back against the wall beside, despair filling him. He had stood watch over Elizabeth and her sister for two nights and had come back to do so again, to protect them from the very thing he now ached to do himself. The irony sickened him but did not staunch his desire. Gathering all the resolve he knew it would require to return to his room, he stepped away from the wall.
Darcy turned just as the door opened and Elizabeth appeared. They cried out in surprise simultaneously.
"Mr. Darcy!"
"Eliz –a – Miss Bennet!"
She was dressed in her night rail and wrapper; and, though more modest than even her day dresses, the sight set his nerves on edge. Her hair hung down as he had imagined. She held one hand to her heart as the other gripped a candlestick.
"Mr. Darcy, you frightened me! What do you mean by all this skulking about in the dark? How can you even see where you are going?"
He steadied himself before speaking. "I seem to have mislaid my book. I was unable to sleep and thought to read."
"The Lord Nelson? I believe I saw it in the library on the sideboard."
He nodded. "That would be a good place for it."
She smiled. "Indeed. Although if you are looking for the second volume, you may have to wrest it away from Miss Bingley," she said with a glint in her eye. He smiled at that; but then they both became sensible to the impropriety of their current circumstance and their close proximity. "I was on my way to check on Jane."
He knew he should step aside, but he did not. He knew he should look away, but he did not. He held her eyes in his stare, his resistance faltering. Another moment and he might have moved towards her, reached his hand to hold the nape of her neck, pierced her flesh with his aching teeth, pressed his mouth upon her lips; but the light from her candle illuminated his face, and he saw his wan reflection in her eyes. As with all those with his curse, he could not bear the sight of his own reflection, a vision of death itself. Her candle flickered out in an instant, and she gasped and broke her gaze.
More Excerpts of Pulse and Prejudice:
Click here for Leatherbound Reviews Vlog with reading of an excerpt from Pulse and Prejudice
 Another Pride and Prejudice adaptation???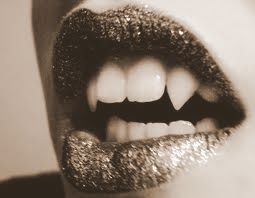 I have been asked more than once why I wrote a vampire adaptation of Pride and Prejudice – especially as others are already out there.  The simple truth: I never found the vampire variation I longed to read, so I had to write one myself!  I wasn't looking for a "mash-up" or a sequel or a variation that veers off on its own – albeit creative – vampire plot before revealing that Darcy is not a vampire at all. I wanted to read a paranormal variation that remained faithful to Austen, to Darcy and Elizabeth, and to Pride and Prejudice.  Oh, and I wanted a few naughty bits as well – a peek at the passion, lust, and desire that simmers just under the surface in the original.
I love Jane Austen, and I have read Pride and Prejudice a dozen times at least.  I always thought of Darcy as a Byronic figure that lent itself well to a vampire characterization, which is why I chose to have the story unfold through his eyes.  (Coincidentally, Byron published The Giaour in 1813 – the same year Austen released Pride and Prejudice.)  Although Pulse and Prejudice adheres to the original plot and style of the classic romance, it is not a "mash-up" but an original variation told primarily from Darcy's point of view as he struggles with the curse of vampirism.
I hope I have written the vampire adaptation that others want to read as well.
Colette